Yes, that's a reference to Eminem. Thank you, you sons of bitches, for captivating everyone's attention the last few weeks/months for a pre-determined, fake going through the motion of evaluations, free agency process. This was clearly a decision you made up a long time ago. You could see it on the $hit-eating grin Queen James (that's what his new nickname better be as second fiddle to Wade) when he was asked the question.
First feedback, is that this is not a good thing for the NBA. I hope most fans don't forget this and hold true. I don't care if they top the 72 win season (which they won't), it's all fabricated. We were basically watching a WWF ( I don't care what the name is now that's what it will always be referred to by me) match. A few close people decided the outcome and everyone else was left watching the fake blood and chair smashings.
Mark my word, the owners will react to this. There will be a new team rule, a la the Larry Bird rights rule, where no team can go below a certain threshold. There will be exceptions for bankruptcy, but they will make a change so the league is never taken hostage like this again. It will be the Miami triumvirate or trifecta rule. I am going to check trademarks to purchase the rights now. Maybe I can spoil in the riches, too. If only I were in Miami and didn't have to pay the taxes.
Let's face it this was all about two things; money and fame. They could all save tax money there. They could also stroll the beaches with their white suits and stroll the beaches (yeah this is him on draft day, so we all should have known this day was coming).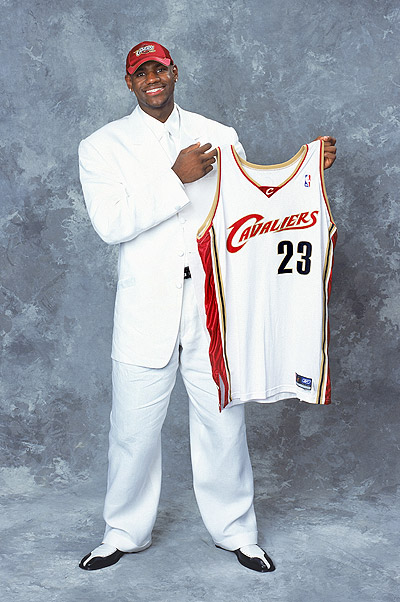 As for play on the court, I am sure they will figure out and win the championship they seek. I hope Wade gets hurt from having to play 45 minutes a game and it never happens, but that seems pretty unlikely for five years straight. Stranger things have happened.
One last question is, say they win the next five championships (and pretty much any less than 3 is a failure in my opinion), who will be regarded as the best player from those teams? Does Wade rank higher than Lebron on all-time lists because this is his team Lebron had to follow and join and Wade always has the extra championship? Something to think about for his royal highness and all his posse.